8:13 PM
Music : Love remains the same - Gavin Rossdale. Mood :Crappy? Too much time, too long defending. Hello :D I guess I feel alright. Think I ge...
8:13 PM
SHIOK AH!
Music : Love remains the same - Gavin Rossdale.
Mood :Crappy?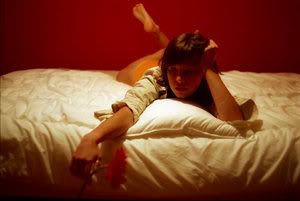 Too much time, too long defending.
Hello :D
I guess I feel alright. Think I get exhausting easily these days. School's tiring me out.
There's
DnT
from 3:30pm onwards tmrw.
ProDesktop
is making me go crazy.
Had school, usual stuff.
Had 3 periods of
Physics
today. Was kinda fun though. We had one period of Practical, 2 periods of theory. Haha, I can't believe Mr Wee actually passed
English Orals
okay. Was laughing my ass off today.
Anws, went home with
Charmaine, Whitney and Joe
l after that.
Joel
wanted to go look at his bagpack. Since it was at Causeway, I went along with him.
Saw some bitch along the way.
Hahaha, I told him that I'm going to blog abt her, so here I am.
I think her name is
ShuRong
or something? Cheena name. Anws, she's from some place that
Joel
once attended.
Joel
hates her like what shit too, including me. See her face want vomit alrd.
She was like wearing

HOT Jeans shorts

, and mind you, her figure was like kns.I know that I'm fat, but I'm 10000% sure that my thighs are not as thick as hers.

Still dare to wear hot shorts.

She had long

rebonded OILY hair

, and wear silver BIG ring earings, which are called Hoops.

Well, hoops don't suit everyone, seriously.

Charlene

wears them, but she looks pretty in them. For her? Like pig wearing ear rings.

She wore a jacket. Not any kind of nice jackets you know? Like those pasar malam 3 for $10 type. Singapore snowing ah?
AND OMFG. LOOK AT HER TEETH MAN.

When she smiled at her friend, I almost fainted ._.
Like some chao ah lian outside. Complaining to her friend like what.

I saw her, I diao-ed her.
So today is like the happiest day of my life or something?


Really felt like asking her a question.
"Your thighs pump hong want is it?"
(Pump air)

Wahhhhhhh, feel damn shiok now, I tell you.
Oh YAHHH.
I think she got
H1N1/swine flu
, youknow? She has one of the symtoms inside!
Rmb they once called it Swine Flu which is also know as pig flu?
She has a symtom.

"Thee Bin"
[Pig Face in Hokkien or TeoChew]
CREDITS TO JOEL.
LOL.
LOLLOLOL.
I feel so damn shiok now, you know?
I can study my
Physics test
tomorrow in peace liao :D
Toodles!